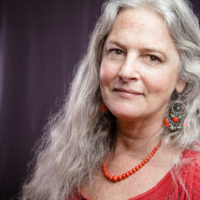 My name is Sally Jeffery; I was born in New York City on July 18, 1958. I am the middle child of Anna and Adrian Lincoln from Princeton New Jersey. I attended Princeton Day School and Syracuse University.
I accepted Jesus Christ as my Savior on December 31, 1972 while in New Hampshire on a ski trip with FOCUS [Fellowship of Christians in University and Schools]. FOCUS is a ministry which targets the private school and boarding school student who may otherwise not have an opportunity to hear the gospel.
My salvation was radical in nature. I had come from a well-to-do stable family. I enjoyed all the comforts and pleasures of the world; lots of friends, vacations, sports, etc. This left me a hard sell for Christ. But, on that night, Christ revealed himself to me as the Son of God, like lifting a veil that exposed all his truth and glory. I was deeply transformed. Everything in my world changed. I immediately joined the Princeton University Christian Fellowship where I was mentored and taught the truths of Scripture.
There was a wonderful Christian movement during the 70's and I absorbed the Gospel like a sponge. It was a great time and I was able to lead many friends to Christ. I had an accelerated growth in my walk with the Lord, in part from my close and continued fellowship with other believers.
During my 20's and 30's, I stayed involved with volunteering at hospitals, nursing homes, with hospice, and with People with AIDS.  My ex-husband was an alcoholic. He had seven years clean after rehab. When he started to drink again, he left our family. I determined that I would be made whole by God alone. The course of this marriage break-up almost destroyed me. During this time my dad came to stay with me. I told him that only my God could deliver me and for him to watch and see. And so he did, and on Easter of that year he gave his life to Jesus Christ.
My world was full of purpose and peace in Christ. With wonderful care, I was restored by Pastor John Duke of Covenant Life Church in Lawrenceville, GA. During that time I created and ran a community service program for a K-12 Christian School then went on to become executive director of a nonprofit program that matched volunteers with needy families, supplying them with Thanksgiving and Christmas gifts and food.
I was living in a very large old home. I boldly came before Christ and asked that my home be a refuge, a City of Jericho. I wanted to be able to take in people who were broken, needing a place to stay to regain their dignity and hope. The Lord sent teenage boys to me. Some people actually thought my house was a half-way house.
I also housed recovering addicts, women in broken marriages, suicide attempts, bi-polars, and unwed pregnant girls.
Little did I know, the Lord was still working on my request of a City of Jericho which was going to cost me much more than I could have known… In 1997 I decided that it would be practical to sell my house, so I hired a painter. This painter would become my future husband, Ed Jeffery.  I fought this relationship for a long time, until the day I realized the Lord was offering me a gift I had been refusing. He was also trying to answer my prayer. Ed was the key to the prayer request.
Two weeks after our engagement, Ed discovered he had a 34 year old daughter [in prison] from a teenage relationship and three grandchildren who were in foster care. The Lord set in motion for us to gain custody of those girls, who moved into my home two weeks before we married. A week later their mother was released from prison and she moved in, too. As it turned out, she was a drug addict.
The mother and three grandchildren have since accepted Christ. There have been many victories and many heartaches and the story continues.
In 2004 Ed and I started Proclaim Liberty Ministries [PLM]. We were dealing with many people whose lives were unmanageable. Our conviction was that addicts were getting sober but not living an abundant life because nothing was replacing the void. We believed that void was a God sized void. PLM set about bridging the gap with the Word of God.
In 2005 the Lord very quickly relocated us to north Georgia. There we became intimately involved with all aspects of Promise Land Ministries, a church that has a free 270 day regeneration program for addicts. These men come with nowhere else to go. It was glorious to watch the revelation of Christ come upon them. Having lost everything, they learned to walk out a new life in Christ. I led testimony time during church and occasionally gave a message. I led the weekly intercessory prayer meetings, attended staff meetings and assisted with fundraisers.
I also worked with the Gilmer County Anti-Meth March in 2007. This involved organizing the pastors into weekly prayer meetings, fundraising, and publicity. Through this planning we discovered Living Free/Turning Point. Ed and I felt we should receive this training along with several others from the county. Our county drug court system accepted Living Free as an approved program for convicted addicts to get their mandated meeting attendance. We then helped start a weekly group in town.
Many people are defined by their job, my husband is not. He is a rescuer. He lays down his life for others and gives what he has. His purpose in life is to bind up the broken hearted, and so is mine. We have prayed for a long time that we could enter full time ministry. However, we had not been positioning ourselves for it. Now we are. We feel like the Lord was saying, "What do you want to ask me for?" as if it is his pleasure to grant our request if we would just voice it. We asked him to place us in full time ministry to the addict, the broken, and those whose lives were unmanageable, whether an adult or child.
We asked the Lord to close all doors he did not want us to walk through and to open wide the one he did. We are continuing forward in what we believe is our God given calling.
Above all, our greatest joy is to see the lost give their life to Christ. This is the Great Commission, this is what we are called to do; to bring hope to the hopeless, to bring the good news of salvation and lead others to Christ.